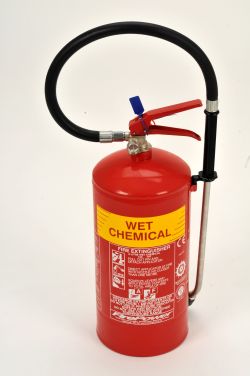 All of our fire extinguishers are supplied to BS EN3 standards and are BAFE approved and carry a five year guarantee if maintained by Independent Fire Services.
Wet Chemical Extinguishers
Wet Chemical fire extinguishers were developed to deal specifically with fires resulting from cooking oils and fats class F risk.  The wet chemical process seals the surface of burning oil to prevent re-ignition.
This extinguisher is 6 litres in size, capable of extinguishing a cooking oil or fat fire of up to 75 litres in size.  This extinguisher comes with a hose swivel joint for ease of directing the contents onto the fire.