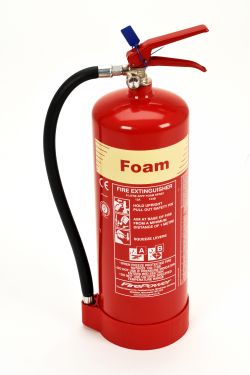 All of our fire extinguishers are supplied to BS EN3 standards and are BAFE approved and carry a five year guarantee if maintained by Independent Fire Services.
Foam Extinguishers
Ideal where both A & B class fire risks. AFFF (Aqueous Film Foaming Foam) is particularly suited to class B fires caused by the combustion of materials that liquefy such as petrol, oils, fats, paints, tar etc.
This extinguisher is available in  6 litre and 9 litre capacity and has a squeeze grip operation.  Corrosion resistant finish and internal polyethylene lining. Protective plastic base. 3 litre is available (not illustrated).