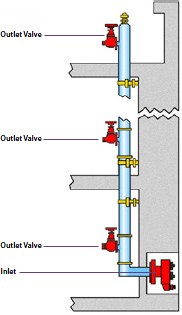 Dry Risers (fire mains) are an important piece of equipment found in tall buildings to help minimise the risk of extensive fire damage. Buildings above 18m will tend to have dry risers fitted. Dry risers can be prone to serious neglect and even vandalism, to ensure that the fire mains are ready for immediate use in an emergency, British Standard 9990:2015 recommends that the system is visually inspected every six months and wet pressure tested annually.
The wet test normally entails connecting the inlet to a pump and water supply using our fire engine. The system is then completely charged with water to a pressure of 12 bar measured at the inlet for a period of at least 15 minutes, with no loss greater than two bar during that period. During this period, an inspection of the system is made to check that no leakage of water is taking place at any of the joints or landing valves. Independent Fire Services always use two fire service trained personnel who are constantly in two way radio contact whilst the wet test is carried out.
On successful completion of the annual wet test and visual inspection a Certificate of Conformity will be issued.